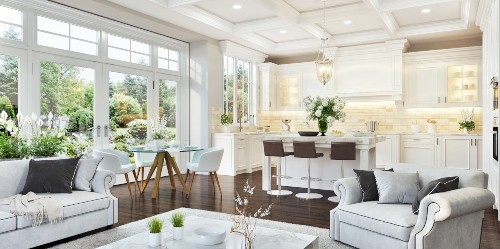 Properly staging your home before selling has proven to increase the value and will often result in a quicker sale. The most important rooms of your home include the living room, master bedroom, and kitchen. The dining room, landscape, and bathrooms are next on the list. Guest bedrooms and the children's bedrooms are generally considered less important. Here are some tips for staging your most important rooms.
Declutter: Getting rid of clutter is the number one recommended staging tip for all the rooms of your home! This project can prove a little overwhelming for homeowners who have lived in their houses for many years. Don't try to declutter all at once. Schedule time in your week and follow the schedule. The living room is a great place to start. Have boxes marked and on the ready for keeping, donating, and throwing away. With a little help from family or friends, the project will be far less intimidating. Treat the helping hands to a delicious meal. They are more likely to return next week knowing it is a catered event.
Clean, Clean, Clean: Your most important rooms need to be exceptionally clean. Clean the windows, clean all the surfaces, sweep the floors and vacuum the carpets. Remember to move your appliances and clean them underneath. Clean inside your appliances. When you step outside for a little fresh air don't go empty handed. Bring the broom! Sweep the front porch and tidy up your entryway. Clean, clean, clean!
Depersonalize: Potential buyers will want to imagine themselves living in your home. Personal photographs of you and your family, vacation photos, and other personal nostalgia need to be removed. This is a good time to assemble your favorite photos and vacation souvenirs into a storage bin and have them ready to hang and display in your next home. Keep in mind that when finished the walls shouldn't be left bare. Bring in new artwork to showcase the local market: coastal and nautical photographs are appropriate for Captiva and Sanibel, Florida. Strategically placed mirrors are another trick of the trade. Mirrors help buyers see themselves in your home right away.
Fresh Paint: Your most important rooms need a fresh coat of paint. We recommend light neutral colors. A light color will make rooms feel more spacious and reflect both natural and artificial light. A fresh coat of paint on your front door is also of great value. Neutral colors of gray, black, or brown are often your best choice. A recent survey from Zillow demonstrated that painting your front door black can increase the price of your home by $6,000. Every market is different. It's always best to consult with your seller's agent to help determine the best course for your particular staging regiment (including door color).
Minor Repairs: Simple repairs include fresh caulking around windows, sinks, and tubs. You can tighten the hardware on doors and replace stripped screws. Updating doorknobs and hinges can also make a big difference. But you don't need to go overboard with minor repairs. Buyers won't be expecting your home to be perfect. It is reasonable to have scuff marks on baseboards and a ding or two on a wall. Your home was lived in and it has a history.
Landscape: Although your front yard is not technically a "room" in your home it does require attention for staging. Best practices include your weekly lawn care routine and weeding the flower beds and garden. When time permits you can return to the front yard and make additional improvements to catch the eye of potential buyers by planting fresh flowers, edging the pathways, trimming the bushes, pruning trees, and adding new mulch. The front yard and outdoor spaces are the first things buyers will see when viewing your home and you want to make a good first impression.
Phaidra McDermott is your exceptional and trusted real estate professional in Sanibel Island and Captiva Island and can help you sell your home. Contact Phaidra today! You may also be interested in reading summer staging tips or fall staging tips.